Luana Florencia Muñoz was born and raised in Avellaneda, Argentina. A city just south of the capital which forms part the Greater Buenos Aires, an area which inhabits nearly 14 million people. Now 21 years old, she finds herself in the town of Lubbock, Texas, population, not a lot. What would move someone from a bustling urban center to live in a town surrounded by farmland? The same thing that moves many of us to do crazy things too, football. But for Lua, football physically moved her 9,000 kilometers (5,000 miles) away from her home, family, friends, and her one true love, Racing Club.
"I am from Avellaneda. I've lived my entire life there and never left. It is my place in the world. I feel such a strong connection to it. A lot of people hate it, but I love it."
Lua grew up with her parents, both lawyers, and her older sister. They lived on the Pasaje Corbatta, one of the streets that runs alongside the Cilindro, the stadium where Racing Club plays. Maybe it was growing up in the shadows of one of South America's nicest stadiums, but ever since she was young, she can't remember a time where she didn't have a ball at her feet. "Falling in love with football was just something natural. If there was ever a ball, I was playing with it. All the other girls wanted to do their makeup and dance, but I just wanted to play football."
This passion led Lua to start playing organized football on a team when she was just five or six. A family friend suggested that she go and try out for Club Portela, a small sports club near Avellaneda. When she showed up, she was told that they were not accepting girls on the team, but since she made the trip, they said she could go ahead and kick the ball around. She spent the afternoon playing and the coaches were so impressed with her, she was invited to join the team.
Luana continued to play football every chance she could. After playing with Club Portela she joined a different club, Defensores de Arenas. While with Defensores, she began to set her sites higher. One day she was out running errands with her mom. "My mom loved to tell everyone she met that I played football. By chance, the lady who worked at the store we were at was the sister of a football agent. She told us that he worked with many players from River and he could help me get a tryout. When we were about to leave, her brother walked in. She introduced us to him, and he said that he could set something up with the women's coach."

Lua was just 13, too young to be included on the official team, but once again when the coach saw her play, he knew he wanted her on the squad. She joined River unofficially and when she turned 14, she was allowed to sign on as a member of the club. In her first year with River, she started at centerback in the Superclásico against Boca. It was at that match that Argentina's manager Luis Nicosia first saw Luana play. He was there looking for players for the upcoming Under-20 South American championships. He saw all he needed to see and since that day, Luana has been in and around the Argentina National Team.
She continued to grow as a player and after three years with River, she joined the most successful women's team in Argentina, UAI Urquiza. During this time, she became close with Gaby Garton, a goalkeeper who had also played for River, UAI Urquiza, and the national squad. Gaby was a little different than the other girls on the team, she grew up in the United States.  Through their conversations Gaby explained to Lua about college soccer in the US.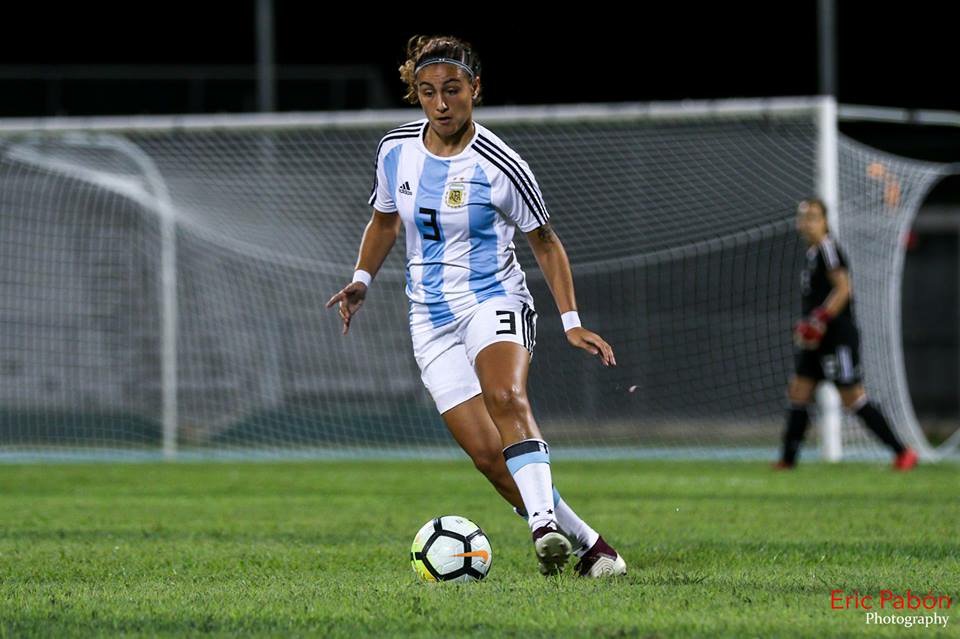 "For a while I had been thinking about leaving Argentina. Unfortunately, I didn't have a lot of trust in growth in women's football – not because the girls were not great, but because of the politics involved with women's sports. For that, I knew I needed to leave Argentina to continue my career. But going to the United States also meant I could study. I have to be realistic and I know it's almost impossible for women to make a living playing football, I needed to have something else too."
Gaby laid it all out for her and Lua began the process of getting her name in front of teams and coaches in the United States. Due to the differences in the school calendars between Argentina and the US, she got started late in the process. All the four-year universities that she contacted already had their rosters filled. That led her to Tyler Junior College, a two-year school in Tyler, Texas, a small town 90 minutes east of Dallas.
"Ending up at Tyler was one of the best things that could have happened to me. I loved it there. It helped me grow and understand what it meant to be in the United States and helped me prepare to be at a larger university."

Moving to a new country meant things were going to change, but the first and most obvious obstacle that Luana would have to conquer was the language. "My mom signed me up for an English school when I was young. So, I knew how to speak when I got to Tyler, but it was still very hard at first. I was shy, nervous, surrounded by new people, and I felt very alone. I could understand my teachers, but I was too scared to speak up during class." With time, Lua gained confidence and now "I love to participate in class, and I speak up every chance I get. I love English."
Beyond the language, it goes without saying, but the United States is very different than Argentina. It is a different culture. The food is different. The people are different. It's not always easy to be an Argentine living in the US. And especially if you are from a huge city and you end up in a farm town.
"I love big cities. It's so weird for me to walk outside and not see the streets filled with people. Being around people is something the fills my soul and right now I don't have that."

For Luana, people mean everything to her, and the way people treat one another in Argentina is what she misses the most. "Everything is just too structured here. People don't have time to sit and talk with you. People here are much colder and distant. We might be more simple, but love and affection is so much more important to our culture, and not being able to feel that here is tough. At home, when we have an asado, we spend the whole day with each other, no one is in a hurry, we love to be around one another and talk about life."
"In Argentina when we meet someone its customary to greet them with a hug and a kiss on the cheek. If you don't, it could be taken as a sign of disrespect. When I first got to Tyler and met my dorm counselor I went in to give her a kiss, she more or less tried to throw herself on the ground to avoid it. That happened to me several times until I got used to not doing it."
While at times she has struggled to adapt to life in the states, when it
came

to football, Lua immediately had success playing for Tyler. Her first year with the squad they won the National Junior College Championship, and her second season, they came up just one victory short of defending their title.

After two years at Tyler, it was time to move on to a larger school. She was recruited by multiple universities but Texas Tech immediately stood out to her. The school had everything she needed to continue to grow.
In her first season the team made it to the national tournament. In the first round they faced Pepperdine University. With the match tied 2-2, Luana was subbed on in extra-time. The match went to penalties and the fifth and final spot-kick fell to her. She slotted it home and when Pepperdine failed to convert their penalty, Texas Tech advanced to the next round of the tournament. They would lose the following match to the University of Michigan, concluding Lua's first season with the Red Raiders.

With one more year left  at Texas Tech, Luana has already started to plan for the future. Having previously played in Argentina and with the league recently becoming professional, as well as her obvious love for her home country, you might imagine that her plan would be to return to native land. Well, that's not currently in the cards for Luana.
"Unless Racing comes calling, I have no plan to play football in Argentina. The league is still a mess and the women are still not being treated right. I'm not ready to return to that. My personal desire is to one day play for Racing and be a part of the history of my club. But I also can't imagine living in the United States much longer. I've thought about trying to go to Europe, maybe Spain or Italy where the culture is more similar to Argentina."

Lua's goal is to play professional football and possibly return to play for the national team if things work out right. She hopes she can be a part of the growth of women's football. At Texas Tech she is currently studying Sports Administration and hopes that once her playing career is over, she can become a coach.
Whether she ends up in Europe, the United States, Argentina, or somewhere else completely, as a player or a coach, one thing has been certain since the moment she was born, football will be a part of her life each and every day. And that includes being an ambassador for Racing wherever in the world her football journey takes her.

What does Racing mean to Luana?
"At first being away from Racing was horrible. Going to the matches was a weekly part of my life. I went to all home matches and when visiting fans were permitted, I would travel to away matches as well. When I would watch the games in the US and see the fans, it made me want to cry. I wanted to be there with them. Over time I've gotten a little more used to it, but it still kills me to not go to the matches."
"I love to watch the games with other people. I invite my teammates and friends to watch the matches with me, unless it's a super important match, those I want to watch alone. I've given them Racing shirts to wear when we watch, and I've tried to teach them some of the more basic songs. Sometimes I will start yelling and swearing at the TV, if something bad happens I'm immediately looking for something to hit. When I go to the matches, I'm able to calm my nerves by singing with the other fans but watching on TV with people who aren't really fans, I'm constantly trying to find a way to get rid of those nerves."
"In Argentina I've converted a lot of people to Racing. My family is all Racing fans and as a family we've converted a lot of people to Racing. If you love football and you meet a Racing fan, it's next to impossible that you too won't become a Racing fan. We live the Racing fandom in a way that no other fan base in Argentina does, especially not Independiente fans. Racing fans are all fanatics – you won't find anyone who is a Racing fan who isn't totally obsessed."

Get to know Luana
What do you like to do with your free time?
Spend time with friends, family, pets, and sit on the grass and talk.
A passion of yours other than football?
Tattoos, photography, and animals
The best movie or show that you've recently watched?
Game of Thrones
Favorite place on the planet you've been to?
Buenos Aires and Avellaneda
A place you want to visit?
Paris
If you won the lottery, what would be the first thing you buy?
An animal shelter
Favorite footballer?
Women – Megan Rapinoe / Men – Lionel Messi
Favorite Racing Player?
Diego Milito and Lisandro Lopez
Your idol?
My mom and my aunt
Favorite food?
My grandma's polenta
What do you do for good luck?
Always repeat what I did before
You wear the number 26, does it have a meaning?
22 is my favorite number, but 26 represents my experience in the US and what I've been able to overcome.
A dream you've accomplished?
Being able to study in the US.
A dream you haven't yet completed?
Live somewhere where I feel comfortable and stable and have the people I love around me.
The goal that you celebrated the most?
________________________________________
Like much of the world, Lua is currently trying to stay isolated and safe from the Coronavirus pandemic. But even trapped at home, she has figured out ways to keep a ball glued to her feet.
A mi no me gusta el del papel porque me quedan pocos rollos entonces hice mi propio challenge: espacio reducido challenge
quien se animaaaaaa????? pic.twitter.com/GqQs14udOy

— Luana Florencia (@LuaM_Florencia) March 19, 2020